Space Shower screen
Space Shower Screen with 10 mm compact laminate and naturally anodised aluminium profiles with integrated screws and pre-fitted doors give a nice-looking finish and the most effortless installation on the market. Front profile (Floor-Ceiling) 3000 mm, adapted to fit on site. Standard height 1860mm + adjustable column bases 95-150mm. Standard width 900mm, other dimensions available upon enquiry.
Clothing hook, art.no AP854001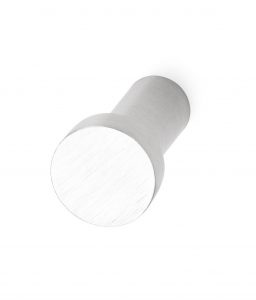 Format
Standard 1860x900mm.
Frame
Constructed of high-pressure laminate (compact laminate) 10 mm thick.
ISO4586/EN438.
Profiles
In naturally oxidised aluminium of which the majority are pre-drilled and cut at the correct lengths. The laminate is fixed to the profiles using a hidden attachment system. The front profile is supplied 3000 mm and is adapted to fit on site.
Floor pillars
Column bases are adjustable between 95-150 mm.
Delivery
According to drawings. Each order comes with an accompanying drawing and installation instructions as per the design documentation.
Machining
Space can be sawed and drilled using customary woodworking tools with carbide blades. The edges can be ground and polished, but they do not need to be painted or protected from moisture in any other way.
Water resistance
The homogenous laminate tolerates moisture and water. It is not attacked by mould or rot. The walls can be washed using a high-pressure washer, which is a requirement imposed by many industries for cost-effective cleaning.
Impact resistance
High pressure laminate is one of the market's most tolerant building materials. The laminate has a hard and resilient surface that is incredibly difficult to make impression marks in.